Add Editable Region
Add Editable Region
Ability to regenerate a failing heart becoming a reality for Mayo Clinic and Cardio3 BioSciences
Cardiologists have made significant advances in recent years treating patients with heart disease. But one of the major unmet global needs in the field, says Andre Terzic, M.D., of Mayo Clinic, remains the repair of muscles damaged during a heart attack. Terzic and Mayo colleagues, in collaboration with Belgian company Cardio3 BioSciences, are working to change that. Drawing on research pioneered at Mayo, they have programmed stem cells taken from patients' own bone marrow to restore damaged cardiac muscles.
Some have called what Cardio3 is endeavoring to achieve the "holy grail" of cardiology.
"We currently lack therapies that effectively repair the damaged heart," says Terzic, a pioneer in the field of regenerative medicine. "This is particularly true in the context of heart failure.
"Increasingly, we save patients who suffer from a heart attack. Unfortunately, a large portion of the heart muscle may be dead because it was deprived of blood supply."
Terzic says current interventions can open clogged blood vessels following a heart attack and reinstate bloodflow. But there are no therapies to revive dead cardiac muscle, leaving many patients with a poor prognosis and quality of life.
Regenerative medicine brought to you by technology
"The whole new field of regenerative medicine — that in this case could be used to repair and restore structure and function of a damaged heart — is increasingly becoming reality fueled by technology advancement," Terzic says.
Work on this new stem cell therapy began at Mayo about a decade ago. Terzic credits Atta Behfar, M.D., of Mayo Clinic for initiating the project.
"This breakthrough reflects the collective efforts of an amazing team of scientists and physicians working together. Especially Dr. Behfar, whose goal as a young physician-scientist was to find innovative ways for heart repair," he says.
Terzic says the initial research focused on learning how stem cells could best be used in this endeavor.
"There has been a lot of excitement about stem cells, but we realized that you can't just take stem cells from the body and implant them into a diseased heart to magically fix it," he says. "It was necessary to ensure that stem cells truly have a reparative capacity."
A natural empowering of stem cells
Terzic says the Mayo team found a way to guide bone-marrow-derived stem cells and "empower" them with this healing capacity. Better yet, he notes, this technology is based on natural processes present in our own bodies, rather than an artificial way to create this reparative process.
"We learned essentially over many years how our own hearts develop and become a fully functional heart. We tried to map normal processes of heart growth and applied this new knowledge to mend the diseased state."
Terzic says the team learned which set of proteins guide heart muscle development, thereby offering "a blueprint to impose upon stem cells that we obtain from patients."
Before they are injected back into the heart near the damaged site, these patient-derived stem cells are upgraded for achieving necessary reparative proficiency. They are termed "cardiopoietic stem cells," he says.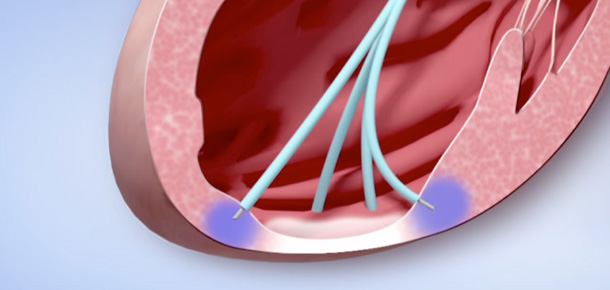 Stem cell heart repair
Training cells to be 'young cardiologists'
"That's where the true innovation lies and is essentially the technology that Mayo Clinic Ventures licensed," he says. "In one sense, we orient stem cells to become young cardiologists. Because of this guidance, they become trained to repair the failing heart. They don't simply become new cardiac cells."
When the Belgian company saw what Mayo scientists had achieved, he says, it was "natural for them to be interested in us." The collaboration began in 2007. "They offered elements we don't have here," Terzic explains. "In this particular case, we were looking for advanced product development, manufacturing capacity, execution of clinical trials and regulatory access across health care systems. Cardio3 had all this know-how, integrated within one structure."
Making government part of the team
In addition, he says, Cardio3 had developed an ongoing relationship with governmental agencies in Belgium, which promoted new technologies.
"In many ways, this is an example of a unique multidimensional partnership with an international biotechnology company fostered by public/private support," he adds. "Complementing venture capital investment, the Belgian government support was critical in turning this innovation into a product aimed at advancing patient care."
Christian Homsy, M.D., a surgeon who is CEO of Cardio3, says the relationship with Mayo Clinic scientists and Mayo Clinic Ventures has been pivotal.
"We liked what they do, they liked what we did, so we decided to work together," he says, noting that the company is envisioning a facility in Rochester. "We look forward to working even more closely and expanding our relationship." Following successful completion of initial clinical testing, Terzic says, regulatory agencies have approved the technology for additional, more advanced trials. The so-called phase 3 clinical trials are under way in Europe and Israel and soon will start in the U.S. as well.
"This is a great example of a first-in-class biotherapy directly obtained from patients themselves," he says. "It is also a wonderful paradigm of how a Mayo Clinic innovation has gone all the way from discovery through translation and is now being applied in advanced clinical trials expedited by a global collaboration."