Add Editable Region
Add Editable Region
Add Editable Region
Mayo Clinic and Enterprise Ireland collaborate to advance medical technology
Progressive thinking is evident in the types of collaborations Mayo Clinic Ventures forms. In the first commercialization contract of its kind in the world, Enterprise Ireland has entered into a five-year agreement to develop technologies born at Mayo Clinic. This is both a powerful commercialization infrastructure agreement and an innovative economic development tool.
Through the collaboration, high-potential technologies in the Mayo Clinic pipeline — those that are in the stage of precommercial development — may be further developed for commercialization readiness by researchers at Irish universities.
The historic agreement may have global economic benefits if the partnership is successful in its goal of moving technologies to the marketplace to improve care for patients. The Irish government created Enterprise Ireland to improve the Irish economy, including job creation. The agency provides funding for a wide variety of initiatives, including entrepreneurs, high-potential startups and large companies. It supports translational research so that innovative products can be potentially spun off into Irish-based international companies.
Mayo Clinic and Enterprise Ireland made worldwide news by entering into this agreement. The signing in Dublin on April 10, 2014, recognized the similar goals of Mayo Clinic and the Irish government: advancement of medical technologies to ultimately benefit patients on a worldwide scale.
The signing ceremony was attended by the Prime Minister of Ireland, Mayo Clinic representatives, Enterprise Ireland delegates and other government officials. Members of the Irish, American and European press were quick to point out the unique business model that blends technologies invented at Mayo Clinic, a world leader in medical advances, with entrepreneurial opportunities for commercialization through funding channels available from Enterprise Ireland.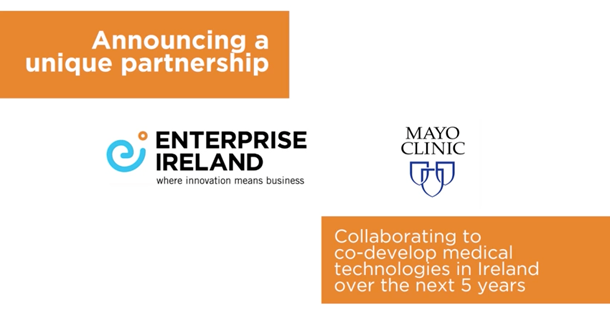 How the collaboration will work
Technologies from Mayo Clinic, which have been de-risked from earlier investment at Mayo Clinic, will be transferred to Irish research partners. Mayo Clinic technologies in early stages of development will be licensed to Irish academic institutions to attract private investors.
Once the technologies are licensed, an Irish research and clinical team will work together to further develop the technology for commercialization purposes. Downstream revenue from the commercialization of the technology will be shared with Mayo Clinic. A pilot project, developing Mayo Clinic technology to better patient care, has been under way since 2013. Mayo Clinic transferred to National University of Ireland, Galway, a medical device to treat acute pancreatitis. Next steps involve further development and human clinical trials. The method, which involves cooling down the pancreas, could reduce the need for costly hospital stays and intensive care and ultimately prevent death.
Revenue that Mayo receives from technology such as this one will result in new products to support its not-for-profit mission in patient care, education and research.
The collaboration solves an ongoing challenge in technology commercialization — that of finding funding sources for promising new medical technologies. Mayo Clinic Ventures welcomes innovative ideas for collaboration such as this one.