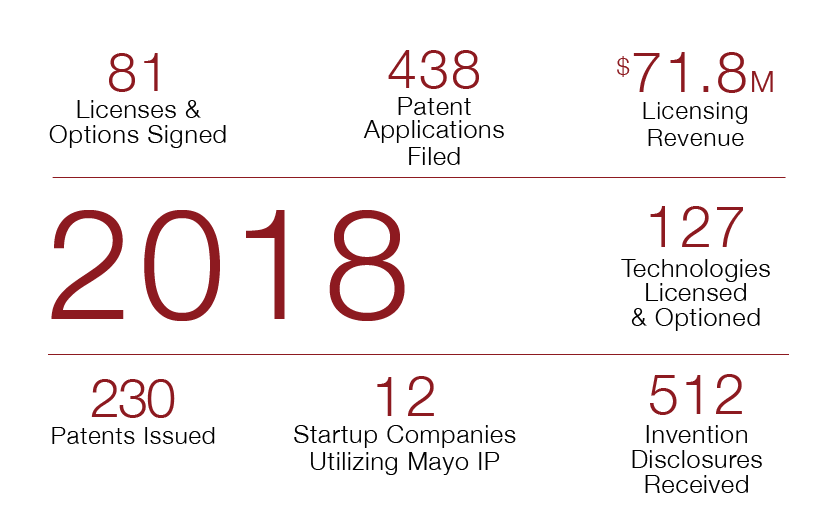 Other stats and facts
Mayo Clinic has over 2,000 technologies available for licensing.

Six new startup companies were formed around Mayo inventions in 2018.

Technologies licensed from Mayo Clinic are used around the world.

More than 950 employees work at companies formed from Mayo Clinic inventions.

103 startup companies have been formed around Mayo Clinic inventions.

Mayo Clinic has filed over 7,500 patent applications.

Mayo Clinic has received more than 2,500 issued patents.

Approximately two new inventions are disclosed to Mayo Clinic Ventures each day.

Since 1986, Mayo Clinic has generated nearly $600M in revenue from licensing inventions.

Revenue from Mayo Clinic inventions is critical to supporting Mayo's nonprofit mission.

At any given time, more than 12,000 human research studies are underway at Mayo Clinic.

Mayo Clinic instituted 2,800 new IRB-approved human studies last year.

Last year, Mayo Clinic published 7,234 articles in peer-reviewed research journals.

Since its formation, more than 30 tenants have occupied the Mayo Clinic Business Accelerator.

College students get to experience the business of technology assessment and commercialization strategies first hand through participation in the Mayo Innovation Scholars Program.